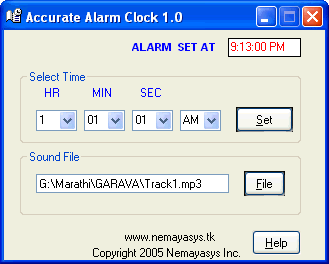 Requirements
Windows 9x,Me,2000,Xp,2003 only
Pentium 233 MHZ(or equivalent) & higher
32 Mb Min ram,64 Mb Recommended
Features
1. Turn your PC into an alarm clock
2. You can Specify the sound file which will be played as alarm
3. You can set the alarm time in HR:MIN:SEC format thus there is accuracy of seconds too.
4 . The alarm(sound file) will be played accurately on the time specified.
5 . Program Minimizes to system tray and is Easy to use.