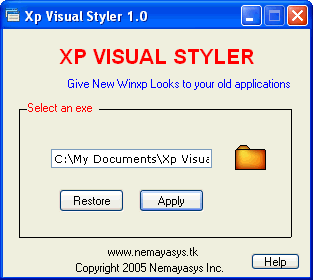 Requirements
Windows Xp,2003 only
Pentium 233 MHZ(or equivalent) & higher
32 Mb Min ram,64 Mb Recommended
Features
1. Give your old application Winxp looks and feel
2. Restore anytime the old theme of theapplication
3. Application will be adopted automatically to the new theme.
4 .This program does not modify the exe so no chances of errors in your application.
5. Easy to use.